Wow.  I mean…just…wow.  The response was amazing this month!
As my fellow scofflaw Marshall mentioned in his write-up, bourbon has a special place in our hearts.  If I had to pick a "desert island' liquor, it'd be bourbon.  If I thought about what I drank the most in college – other than beer – it'd be bourbon (or even after college).  Heck, my parents rubbed bourbon on my gums back as a kid to help with teething!
Well, for all that, I was excited to see the entries this month.  We've got some doozies!  It really makes me want to get back into the bar and make up some of these delicious sounding drinks.
So enough of all that, let's get into the recaps – but first, something else…
I received an e-mail last week from Mike Manning at Bulleit Distillery.  I'd only ever had Bulleit in minis or the occasional mixed drink and he asked if I'd like to have a sample and some material about it.  I, of course, said yes.  Sure enough a package showed up on my doorstep on Monday (and was fortunately brought inside by my brother before the monsoons could wash it away).  Inside was a 750 mL bottle of Bulleit and some papers.
If you haven't had it before you should give it a shot.  I tried about half a shot of it first, just sipped it, and liked it better than I had remembered when I'd last tried it straight.  The bottle is also just neat looking.  I've been into Westerns for a long time and it just looks Western, and it seems they used it on the show Deadwood for that very reason.  It's definitely more authentic than that "Wild Spirit" stuff I used to drink a while ago!
So I've gotta thank Mike for his donation.  I used it in my drinks last night; I'm sure Marshall and I (assuming I let him have some) will have to see how it works out in some others.
One quick other thing: the Den is what we consider an "online speakeasy".  With our new digs (see bottom of the post) we'll hopefully be able to work on the sense of community and camaraderie much better than our current host.  As I see it, Marshall and I are your bartenders for the evening.  Though most evenings there's only one or the other of us on shift; for instance, I handled this MxMo, but I know Marshall is chafing at the bit to host one of his own!
One last thing before the recap: if you're a blogger in the Washington, DC, area, leave a comment or drop me a line at seanmike -at- scofflawsden -dot- com.  I've seen at least a couple of you out there and would love to see who we could get together for a rampage drinking binge cocktail tour of the DC area or something.
Mark Sexaur responded first with a post on his cocktail blog, back a solid week ago, with his drink, a Maker's Mark and Anti-Cola.  He mentions how you can get a chance to get your own barrel of Maker's Mark and also provides the recipe for his "anti-cola" which he thinks is better than coke and, hey, sounds darn good to me!  I might have to give it a shot sometime soon.


Next up we have the Nickel Fizz from Max Heusler, the "editor in fly" of the FlyboyzNYC blog.  This is a combination of bourbon, vanilla beans, and cherries, along with Boylan's black cherry cola – one of the flavors that I can find pretty readily in my local grocery stores.  He doesn't say if he used sweet or sour cherries, but if I made it, I'd use sweet cherries because I've got a huge sweet tooth.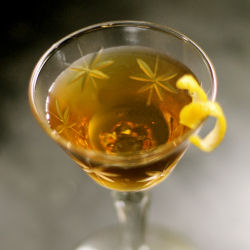 Next up is the Monte Carlo from Married…with dinner.  This is a simple drink of whiskey and Benedictine plus some bitters.  It goes to show, as some other cocktails in this recap will also do, that you don't need fourteen thousand ingredients to make a good drink.  I'd say "or anything esoteric" but I tend to forget that I'm a compulsive collector, and thus, Benedictine might not be in everyone's bar necessarily.  Heck, I've been to bars that didn't have it, or just had B&B…(but that's a rant for another day)….
Keith over at his blog, moving at the speed of life, brings up one of the most classic bourbon drinks out there – the mint julep.  I claim that this is the drink that taught me how to make simple syrup, as the recipe I always used is very similar (well, pretty much exactly the same) as the one in The Joy of  Mixology.  Keith takes it up one step and gives us a few different variants putting in different liqueurs to accentuate the tastes.  Man, I'm thirsty just thinking about it…it's such a nice day outside…sigh.
Bruce at WorldWideDrinks brings us the Allegheny, a mixture of bourbon, dry vermouth, blackberry brandy, and lemon juice.  He also goes into a bit of the history of bourbon, and more specifically the Bourbon county area.  Explaining how Bourbon County was part of the "Kentucky District of Virginia" might help explain why we Virginians still love it so much (other than the fact that, hey, it's good!).
Next we had Seamus over at bunnyhugs with his drink, the Derby, from Ted Haigh's Vintage Spirits and Forgotten Cocktails.  He describes this drink as a combination between a Manhattan and a whiskey sour which is fascinating to me.  Manhattans are one of my current "go to" cocktails and whiskey sours were one of my favorites back in college (when I wasn't drinking bourbon and cokes, that is).  Seamus also gets bonus brownie points for using Bulleit this month.
Keeping on the Bulleit fixation, Kez over at Kez, mixed gave us the "Kentucky Kernel", which we are warned is not named after the KFC founder but rather refers to the fact that it uses apricot brandy.  Kez also points out that the University of Kentucky's student newspaper is called the "Kentucky Kernel".  That actually fits in appropriately for the bourbon Kez used but as to why that is I'll leave for a trivia question – answer in the comments if you think you know!  (And no, it's not because bourbon is from Kentucky.)
Because I'm a right awful bastard sometimes I even made Marshall follow the instructions I laid down and send me an e-mail with the URL of his beverage posting!  Grumbling, he complied, posting about his Kentucky Orange Blossom, a drink that sounds better than it seemed to end up, and his variation of a Lynchburg Lemonade that he called the Front Porch Cooler.  It is that lemonade variation that stopped me from doing my own, which was going to be primarily lemonade, bourbon, and orange Angostura bitters.  But his sounds pretty good, too.
TraderTiki had to break from his usual retinue of rums to experiment with a bourbon drink and found the only one that he really enjoys.  While I'm glad he found one, I think what that truly means is that the Scofflaw's Den resident tiki expert, Marshall, needs to hunt Blair and pour various bourbon drinks down his throat until we find another one that he likes!  And another one, and another one, and another one…at our hearts, we're really just good, decent, humanitarians.
Oh, that Jamie Boudreau!  He took the bourbon theme to heart SO HARD that he actually WENT to Bourbon county, Kentucky, and visited distilleries, such as my college nemesis Jim Beam and one of my current favorites Heaven Hill.  He talks on and on about the wonderful things he got to do, with beautiful pictures taken, and finally gives us the Seelbach Cocktail, with two different kinds of bitters and a topping of champagne.  I've got to decide if I'm just incredibly envious or what with the stories he had from that trip…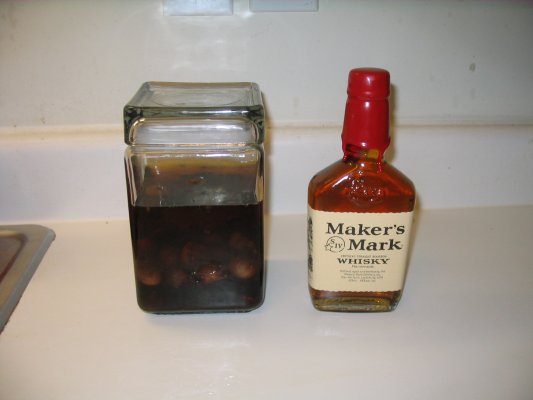 Not being the types to let their personal tastes get in the way of science! the fellows over at Infusions of Grandeur went about making their own cherry bounce – for historical reasons, honestly.  If you're interested in cherry bounce I know that the book Smokehouse Ham, Spoon Bread & Scuppernong Wine: The Folklore and Art of Southern Appalachian Cooking talks about it as well as other old-school drinks.  All in all it's a pretty good book, in fact – I should write more on it later.
"The German one", Chris, posted his entry about an Elderflower Manhattan.  Just to warn you, the whole post is in "German", and while I can't read German, I can read the recipe other than its crazy "metric" measurements!  No, I'm just kidding (I say before the Infusions of Grandeur scientists throw beakers at me), I know metric, and I also think that this drink sounds fairly interesting.  Bourbon, dry vermouth, and St. Germain, with a dash or two of bitters…
The drink that another northern Virginia-ite, Jacob Grier, sent in is called "Amy's Mom".  I read his e-mail, which included the recipe, and was pleased when I read his post and saw that I was right about the inspiration for it (the "Bufala Negra" from the Food and Wine 2008 Cocktails guide.  The use of balsamic vinegar in a drink is fascinating to me, and this was another drink I'd considered doing myself – but I didn't have any ginger slices.  (And now I remember that I actually freakin' GINGER…sigh.)
He might be a "rum dood" but Matt sent over a bourbon drink nonetheless.  The Sherman also has rum in it.  Fiddling around with the recipe, Matt added Scofflaw's Den-favorite Creole Shrubb to it and says that it made an okay drink awesome.  That makes me happy to hear and I've got YET ANOTHER DRINK to add to the rotation!  I bet Marshall gets to it first, though.  Oh, and hey…you forgot your picture of your drink!
Ian over at the Iceland Spar kept the bourbon manly and simple by just adding nothing more than raw egg to it.  Well, there's also a dash of simple syrup, and you can might want to add a dash of aromatic bitters, and you also grate nutmeg over it…okay, so it's not PERFECTLY simple but it's still pretty bare bones.  And easier than drinking raw eggs by themselves (for you boxers out there)!  If I had a picture of eggs I'd include it with a picture of a bottle of bourbon, but I don't, and I'm lazy, so I included a picture of Ian from his blog.
Lance Mayhew over at "My life on the rocks" comes back to MxMo after missing a few to give us the Screen Door cocktail.  He gets double mega extra super brownie points for not only using Bulleit, but using bacon-infused Bulleit and combining that with a hickory smoked pecan simple syrup and a couple of other things.  Seriously folks, can you READ THAT SENTENCE AND NOT DROOL?  I can't.  My coworkers are looking at me funny now…
If you're anything like me, and for your sake I'd hope so because I'm awesome, the first thing you'd think of when you'd hear the phrase "Amber Daughter" is perhaps the Polynesian equivalent of a "farmer's daughter" joke.  However, A Dram of Brine shows us it's actually a fruity bourbon drink with Bulleit Bourbon, chopped mango, and orange juice plus Angostura.  That sounds like a summer day kind of drink to me!
I've got to admit that I'm insanely jealous of the name of Sonja's blog – Thinking of Drinking – but she shows how appropriate it is for her as she thinks a lot more than I do.  This time, she links to a couple of drinks she invented recently but showcases a classic drink, the Brown Derby.  Of course, she has to add a bit to it, but it only could make it better.
Jay over at Oh Gosh! gives us the Frisco Sour and throws out some cheers to Marshall, too.  The Frisco Sour has two of my favorite things in it – bourbon and Benedictine – plus some lemon and lime juices.  But Jay, where are the bitters?  Where is…dare I say…the love?  (And hey, man, we got ideas for when Marshall hosts a MxMo – but that'll probably be after we move, and we've got to figure out a good topic for him to use…)
Doug over at Pegu Blog thinks he's lame for sticking with a Manhattan, and I'm not one to pass judgment.  What I will say is that a Manhattan is NEVER lame, it's always good, and the bourbon he uses – Blanton – is a bourbon that I dearly love (though I don't have a bottle of it right now).  What is lame is that he uses a generic store-bought maraschino cherry.  Doug – do yourself a favor, marinate some cherries in bourbon and try that.  It's awesome.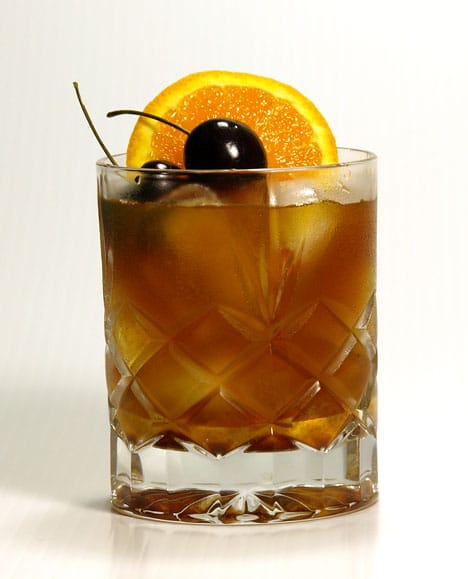 At the Art of Drink, Darcy gives us a bourbon Old Fashioned made with birch syrup, along with a good discussion about bourbon in general.  Seriously, folks, I can't drink at work!  Why are you making me so thirsty?  This birch syrup combination sounds, as my brother would say, fan-fugu-tastic.  I'm going to stop by the store on the way home and see if they have birch syrup.  (No!  Must go to gym first!  Sigh.  Wonder if I can bring in a bourbon drink to sip on while working out?)
Natalie, the Liquid Muse, doesn't leave us with a recipe this month but she's got a lot of delicious ones on her site.  Instead, she gives us a funny anecdote about her visit to a bourbon festival last year and why one should be careful about the proof on the bourbons that one is imbibing.  That's a fine lesson to learn for ANYONE out there, believe you me.  Fortunately I have a switch!
The Intoxicated Zodiac uses black tea, sugar, orange juice, and bourbon to make a drink called the Bourbon Freeze.  This is a pitcher drink and Gwen says Aries can drink the entire pitcher by herself.  I'm not an Aries, (I'm a Cancer, and I'll thank you for NOT making the usual joke, given my birthday is in 15 days!) but I think I could drink the whole pitcher, too, and I think it would make for a very fun pitcher to drink.
Over at Ana Bolena perdio su cabeza, home of our LJ friend
 , she came up with the very neatly-named Purosangue cocktail, a variation of the Manhattan.  She experimented with various vermouths and Ridgemont Reserve 1792 bourbon, but in the end went with Amaro Ramazzotti, something I've never heard of before but that sounds really good (and like something I'm going to have to buy now, gee, thanks!).  I am glad her chief taster was so excited about a bourbon theme!
Experiment 33.2 had a "Frozen Hawaiian Fashioned", a drink that I had no idea what to think of when I heard the name but once I saw the recipe I thought to myself, you know what, Marshall should make this drink for me.  It uses hibiscus and there's a couple of different routes towards making it in the post, plus some pictures that'll make you wish for tropical climes.
Chuck, over at Looka!, gave us a couple of different recipes.  The first was his long-time favorite the "Fancy-Free Cocktail", a mix of bourbon, maraschino liqueur, and two kinds of bitters.  The other one, the one he was afraid might be duplicated, involved bacon-infusing a bottle of Buffalo Trace bourbon and using that in an Old Fashioned with maple syrup.  Well, there's at least one CLOSE to it so far…but we welcome everyone's contributions, no matter how many times they've come in!  How many people stop with just one of a drink, eh?
Over at the Lush Life they submitted as a group and so their cocktail assassin, Allan Delgado (pictured left), came up with a Sunset Gun and a Lady Demeter Sour.  Both sound pretty good, and that's now two bourbon cocktails with hibiscus!  They even included videos on three ADDITIONAL cocktails!  The only thing they didn't include was a good still shot for a thumbnail, so hey, I takes what I can find.
At "A Dash of Bitters" Michael pulled out the Preakness Cocktail, yet another one on my list of drinks that I was seriously considering making.  This is pretty close to a Manhattan with Benedictine in it.  There was no picture for it, unfortunately, and I couldn't find a good one in a couple of minutes of poking around and so we'll have to go with this…
My Brilliant Mistakes has a video, too, and has the cocktail called "Bitter Bourbon" – bourbon, Campari, and green Chartreuse.  I can't view the video because I can't view YouTube at work, but I'm sure it's awesome.  We did shots of Chartreuse after watching Grind House the other night and now I'm a big fan of it.  I also note that Cynthia is from the Pittsburgh area, which makes her extra awesome (GO STEELERS!). 
We're off now to one of my regular blogs to hit (when I pry myself out of Popcap games, at least) and that's Marleigh over at SLOSHED!  She gives us the Penny Cocktail this month.  She takes what sounds like an awful, awful drink (Early Times bourbon and Squirt) and turns it into a pleasant cocktail.  I'm reminded of how I used to drink Mountain Dew mixed with Goldschlager for those early morning band practices (I called it a Gold Rush or something like that) or Mountain Dew and Wild Turkey for night parties – and no, I never had a mullet.
Ted at Le Mixeur gives not only a cocktail but a story.  The Ajeticha is based off the Satan Cocktail, and even though he replaces the bourbon in the Satan with rye with the story he used, and since he left in the other recipe, I guess we can let that slide.  It goes from bourbon, sweet vermouth, pastis and Peychaud's to rye, Punt e Mes, absinthe, St. Germain and Peychaud's.
Robert over at Drink Dogma makes a good point – that often in the cocktail world as of late we've ignored bourbon in favor of rye.  Well, I'm happy to say that in my world, I always love me some bourbon, but I will admit that I have fallen prey to that same gambit.  No more, I cry!  I shall make the Maple Leaf Cocktail, a blend of maple syrup, lemon juice, and bourbon, and I will punch rye in the face!  Not really.  I love all my liquor children equally.  They all have a place in the vast scofflaw's liver in a blurred haze of love.
Hey look, over at Blotto they have the Ramazzotti Amaro again!  Their drink is called the Marc Antony, which, if I remember my history correctly, is named after a Roman R&B singer who had a thing for Caesar salads.  It was either that, or I'm starting to get punchy, but I'll console my thoughts of that amaro, bourbon, orange juice and falernum.  Oh, and no picture here, either, so here's a picture of my cat The RZA sitting on top of a computer.  We did not know she was a girl when we named her.  (Her brother is Master Shake.)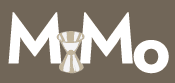 Next we had the instigator of this entire tradition, Paul of Cocktail Chronicles, and what I thought had the best name for a cocktail in the whole thing, the FBI Fizz!  Too bad it wasn't the FBI Fuzz…but unfortunately, the drink was quite "eh" to Paul, the mixture of cherry Heering, bourbon, and Jamaican rum topped with soda just not working out.  He didn't even bother to post pictures of it, that's how boring it was!  But since he did, you know, come up with this whole thing, I'll put the MxMo logo over there.
Jimmy of jimmy's cocktail hour gave us this month the Nectarine Daisy, a delicate blend of bourbon, Grand Marnier, sparkling water, simple syrup, bitters, and a nice piece of nectarine.  I'm betting that the fresh nectarine really helps it out a lot here; over here on the Right Coast we don't get 'em as fresh as maybe you can on the Wrong Left Coast.  (No, I'm not bitter about having to go to LA next month, not at all!)
Over at "Beers in the Shower" – and who doesn't take a beer into the shower occasionally? – he came up with a Hick Tipple, featuring bourbon, lime, simple syrup, and Fee's mint bitters, a bitter that I've really dug since I got.  He rambles a bit about other stuff in there, too, but politely enough also provides a link to Jeffrey Morgenthaler's "Bourbon Renewal" post which now I need to re-read.
Mary over at Cooking 4 the Week keeps it short and sweet with a strawberry julep.  I'm not a huge strawberry fan but there's something very summer and refreshing looking about a drink like that.  If I have a bourbon drinking friend who is also big into strawberries I'd definitely make something like this for that person – it looks quick and easy to make yet delicious.
Over at eGullet there were three responders to be included.  Erik "eje" Ellestad, who organized the thread (and thank you!) recalled Murray Stenson's "Porteno".  Tiare came up with something called a "Spiced Paprika Whiskey Sour" which sounds like it hits a number of my favorite things.  Bostonapothecary came up with a drink from the Savoy Cocktail book called The Artist's Special.
Finally, I took advantage of Bulleit Bourbon's kindness and experimented a bit.  First I hit the "Corpse Reviver No. 1″ and replaced it with all American ingredients, dubbing it the Corpse Reviver No. 1976.  Next, I fiddled around with the ingredients in the Scofflaw Cocktail to make it one that the two scofflaws here might enjoy more.  Finally, to end off the night I grabbed my trusty shot glass and made a drink that I was certain wouldn't make anyone's cocktail list, the boilermaker.
That's it for this month!  I'm not certain who has it next month during the long hot days of July, when all the lucky bloggers are down in N'awlins and I'm stuck in LA at E3, but we'll see what happens!
And don't forget – Scofflaw's Den is moving!  We are almost done with the site migration; soon, any of our domain names (scofflawsden.com, scofflaws-den.com, or .org, or .info) will go to the new site (right now only one of those does).  And we'll be posting on there, too.  For now I'll be trying to keep up with copying over our archives to the new site.