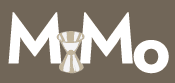 Well, it's been a while, but it was time for Mixology Monday again!  This time it's being hosted at Rock & Rye by Dennis.  Thanks, Dennis!
The theme is "Forgotten Cocktails".  Given the resurgence in cocktail culture, and my relative lack of scholarship done "on my own", I did what I figure most folks would – grabbed my copy of Ted Haigh's Vintage Spirits and Forgotten Cocktails (2nd edition, natch) and started thumbing through it.
I didn't have to thumb through it for long.
Bourbon has always been a passion of mine.  Lately – and I blame Harry Turtledove's "American Empire" series of books for this – I've been on a Calvados kick.  I don't make a lot of drinks using Calvados because I tend to drink it straight (and usually while smoking a cigar) that doesn't mean I avoid Calvados cocktails.
The Avenue is one of the first cocktails in the book.  Immediately I noticed the bourbon and the Calvados, but what really got me interested was the third ingredient listed: passion fruit juice (or nectar), which Dr. Cocktail suggests can be replaced with passion fruit syrup.
Why, I have passion fruit syrup – the ever-so-delicious Trader Tiki variety – and I even have Trader Tiki grenadine!  Let's see here.
The Avenue
1 ounce bourbon
1 ounce Calvados
1 ounce passion fruit juice (or nectar)
1 dash real pomegranate grenadine
1 dash orange flower water
Shake in an iced cocktail shaker and strain into a cocktail glass.  Garnish with a carnation boutonniere.
Sorry.  I ain't got no boutonniere, carnation or otherwise.
The book suggests that you replace the grenadine with a dash of lemon juice if you use passion fruit syrup.  I really wanted to use the hibiscus grenadine, so I used a dash of it ANYWAYS and DAMN THE CONSEQUENCES.  Actually, I also added a dash or so of lemon juice, too.
The drink ended up still a bit sweet but tasty.  The texture is actually quite silky and I'm really digging it.
In fact, I'm very happy with how this drink came out!  It's a departure from what I usually look for in a cocktail – it's not bitter, for one – but on a cool fall evening, it works well.
I'm glad I went looking for a new forgotten cocktail, and I guess that means I have to thank Dennis for hosting this month's MxMo!  I'd thank Paul, too, but don't want it to go to his head too much.
What little-known or forgotten cocktails do y'all like?